Welcome to Soul-Hearted Living! Access Your FREE GIFT here!
>>BOOKMARK THIS PRIVATE ACCESS PAGE NOW<< 
Access Links for your 4 Sacred Audios


To download just right click on the title of the audio with your mouse and click "Save as" to save file to your computer. 
Opening Your Heart to Your Authentic Self (19:52 min.)

Tapping Into Your Inner Wisdom (18:44 min.)  

Awakening to Your Divine Essence (19:05 min.)  

A Five Minute Heart Opener for the Busy Woman (5.33 min.)  
INVITATION & NEXT STEPS   
JOIN ME ON iTUNES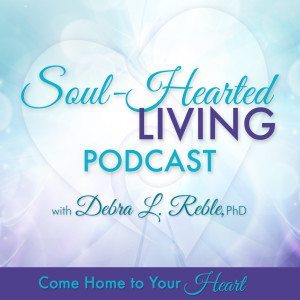 !   My popular Soul-Hearted Living Podcast is a call to come home to your heart and is dedicated to anyone desiring to open to more positive energy flow which brings about clarity, vitality, and well-being.
My sacred intent is to provide heart-centered practices to guide you on your soul's journey. Join me on the path to living heart and soulfully and listen in to a new podcast every week. Give a listen. And if you like what you hear, please subscribe, rate and review at iTunes.  
Let's Continue the Conversation 
Take a moment to 'like' my Facebook page and follow me on Be sure to say hi! 
Watch for my popular Soul-Hearted Living ezine bringing you my weekly blog post as well as supportive resources to support you on the path to soul-hearted living. Please add Debra@DebraReble.com to your safe senders list today so you don't miss an issue.
Save
Save