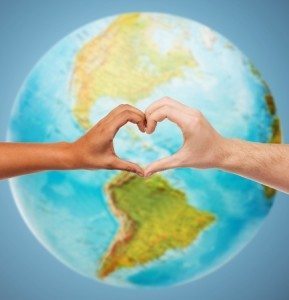 Forget the nonsense of there and here, race, nation, religion, starting point, and destination.
You are soul, and you are love.
—Rumi
Being an ambassador of love means broadcasting love in all interactions with others for our own benefit and that of humanity. Love must be the motivation for everything we think, say, and do. Using our power as beings of love helps us reach our fullest soul potential and inspires others to reach theirs, thereby making the world a better place.    
We can travel as an ambassador of love by choosing to love unconditionally in every moment, radiating love each step of the way. Traveling as a love ambassador, we can make the places through which we move, whether it is our home, workplace, village, or country, better by our caring thoughts and positive energies. Even a radiant smile can change someone's day. As Ram Dass said, "I would like my life to be a statement of compassion and where it isn't that's where my work lies." Taking these words to heart, when friends, family, or strangers visit, I prepare their favorite foods, fill their room with flowers, and put beautiful linens on their bed, along with a welcome note to let them know they are appreciated. Through such acts of kindness and compassion, I transform my home into a loving sacred space. Imagine these small acts of love when multiplied by millions could transform the world.
In the midst of our chaotic world, we can be an ambassador of love by energetically creating peace, accessing love, and inviting others to meet us in this sacred space. Click To TweetFor instance, at the family dinner table or at a party we can practice drawing people into that space through our intention and by softening our gaze, quieting our voice, and slowing down the pace at which we move and speak. Even in silence, we can offer our whole selves to the experience by opening our heart and connecting to them. By blessing the space with our presence, we become an emanating field of love.
We can wake up in the morning with the intention to sow seeds of love everywhere we go. This can mean something as small as taking a moment to be grateful for a smile from a stranger, acknowledging a homeless person by making eye contact, or blessing the people who made our car before we travel. As we move through our day, we can maintain an open heart and express unconditional love no matter where we are, who we are with, or what we are doing. Keeping our thoughts nonjudgmental, our words kind, and our choices compassionate, we create a sense of universal love and spiritual attunement with everyone and everything.
Through such energetic exchanges of love, we realize that we have an infinite amount of creational energy to share and an untapped soul potential to manifest whatever we need or desire. Acknowledging the blessings we already have in life helps shift our mind-set of scarcity we may harbor and opens us to intentions of abundance. These energetic exchanges of love generate more positive energy and multiply exponentially when our intentions are aligned for a greater good.
Every thought, feeling, word, and action we put forth is a memo to the universe through invisible vibrations of energy connecting to everyone and everything. In other words, we keep loving, positive energy in circulation by what we think, feel, say, and do, and the universe conspires with us. As a result of this spiritual law of circulation, we naturally project love out into the world.