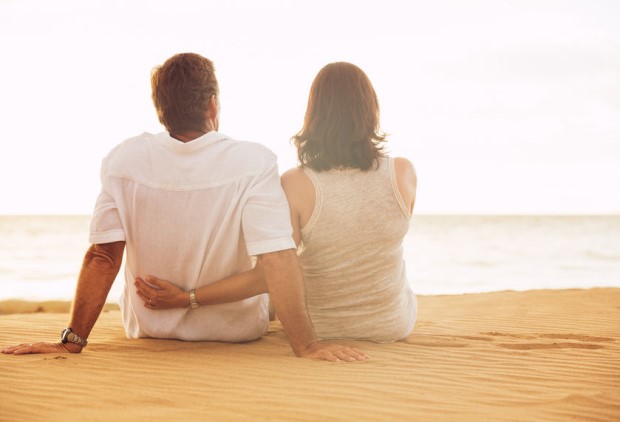 "Love one another, but make not a bond of love: let it rather be a moving sea between the shores of your souls." —Kahlil Gibran
Celebrating soul-hearted partnership takes place on three levels at once. Just as in a set of Russian wedding rings each individual ring fits smoothly with the others to create the whole, the three energies of soul-hearted partnership intertwine seamlessly to nurture the whole. 
The dynamic of soul-hearted partnership is more than two people each giving 50 percent. It consists of two energy sources that together make the relationship more than the sum of its partners. Both partners give 100 percent by first experiencing soul-hearted partnership with themselves and then join to cocreate a soul-hearted partnership, based on an energetic integration that is more than the sum of its partners. Then each partner functions as a complete power source and takes full responsibility for contributing 100 percent of this creative energy to the relationship. As an energetic team, the two individuals produce an energetic integration that results in additional power. 
We can better understand the dynamic of soul-hearted partnership by thinking of it in terms of three points of a triangle. Imagine yourself as one point and your partner as another point, then draw a line connecting the two points. Now envision these two points—each representing an individual experience of soul-hearted partnership—connected to the third point of the triangle, representing the shared experience of soul-hearted partnership. Like compound interest, which is based on the original principal plus any interest that has accrued as the principal grows, soul-hearted partnership builds not only on 100 percent of each partner's energy but also on their combined energies. Sustaining such an energetic dynamic is a key to enhancing life, both as an individual and as part of a couple. 
As the twin flames of full self-expression merge in a relationship, the partners become a collective conduit for channeling energy. By forming an energetic team, they became aware of their inherent ability not only to cocreate their heart's desires but also to transcend any problems that come up in their life. D. H. Lawrence paints a poignant image of this soul union when he writes, in Women in Love, of "star equilibrium," the symmetry established by two lovers radiating as separate stars in a constellation of devotion. 
This past weekend my daughter Alex and her fiancée, Zack entered into the sacred covenant of marriage. As they spoke their vows, professing their love of each other, two hummingbirds hovered near them. And we all celebrated the flow of positive energy and the commitment they were entering into with each other.    
My love letter to them: 
Reflect on that first moment when you gazed deeply into each other's eyes and were bewitched body, spirit, and soul. You fell in love. It was the light in your eyes and language of your hearts that communicated your soulful connection. Heart to heart and soul to soul, you felt a spark of energy that struck a deeper chord of recognition, so pure and natural, beyond what you ever imagined. 
As two individuals, you are cocreating an amazing heart-and- soul-connected partnership together. You are combining forces to bring about peace, harmony, and inspiration for yourself and everyone around you.  Your relationship will also magnify beauty in the world. As you gracefully yield to your connection, you will experience the flow of love that invites your spirits to unite and play. Combining these energies and expressing your love unconditionally, you are opening your future to be all that you want it to be. 
Take your shared covenant and direct your loving flow of energy to expand into your everyday experience. See your hearts entwining in unison, opening you to endless possibilities. Envision your hearts joined, willing to share and expand the creative opportunities in your future. As you nurture and tend to each other's needs, express your love fully and often. The power of your love will sustain you—celebrate that love forever. 
Your union is a beginning of commitment and the continuing validation that you are more powerful now that you are partners. Reflect on this often and on the fact that your partnership is based on this loving foundation as best friends. Trust yourselves and yield to each other and all you create together. Bless your hearts and may your love in relationship be a lifetime of fulfillment for each of you. 
Soul-hearted partnership invites infinite opportunities for us to walk in grace every day. Rooted in the heart and soul, it insists that we live fully realized and self-expressed. And from our potent life force energies, we arouse passion, beauty, and sensuality. As such, immersed in this sacred relationship we experience not only a deepening physical and emotional intimacy but also our own and our partner's spiritual progression.