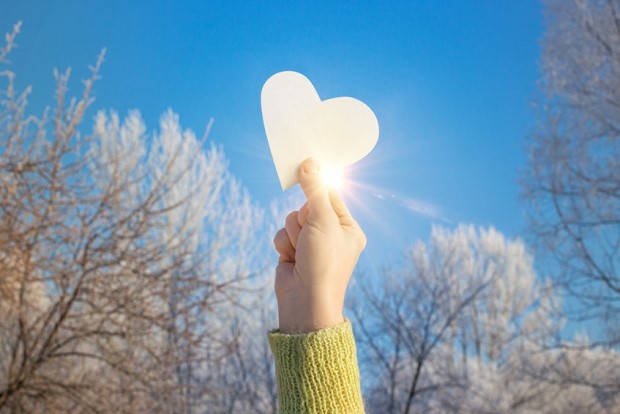 "Where love is present, there are always miracles." Dr. Debra Reble 
On a typical gray winter day in Cleveland, I sat on the edge of the examining table in my oncologist's office, gazing out the window and trying to soothe the terror that was rising within me.   
It was just yesterday that I was planning our spring vacation to New York City, driving my daughter to middle school, and sending care packages to my son at college. It was just last week that I committed to finishing my first book. It was just six years ago that I left an unhealthy marriage, met the love of my life, and married him in a romantic ceremony in Florence, Italy.  
And it was just last month that I went in for a routine mammogram and here I was. As I felt the crackly tissue paper gown graze my breasts, I was jolted back into reality—a reality I had never imagined.  
As I sat there a million thoughts ricocheted through my head at once, such as, "Who will take care of my children? What if I lose my breasts? and What if I die?" The irony in this situation was that I had been considering getting a breast reduction in the next year.  
My doctor walked into the room and, with little small talk, shared the results of my suspicious mammogram: a small area of calcification on my right breast. I took a breath. No, I could never have imagined this, but it was real.  
After a series of follow-up mammograms, an ultrasound, and a needle biopsy, I was diagnosed with invasive ductal breast cancer and a lumpectomy was scheduled.  
After weathering my abusive childhood, two divorces, single parenting, and the loss of my mother at eight years old to drug addiction, I learned to bounce back quickly from difficult situations and devastating circumstances. However, this information rocked my world more than anything I had ever experienced before, because of my underlying fear: that my children would lose me like I lost my own mother at such a young age.  
Like resuscitation paddles that jump–start the human heart back to life, the sheer vulnerability I felt after that diagnosis shocked me out of my complacency with my health. My world turned upside down in a moment. In that moment, I trusted that a path of transformation was being laid out for me, and I knew that, when I am connected with divine grace, everything would be fine.  
I was being given a wake-up call to open my heart and release the energy blocks around my heart center and the deep-seated emotional patterns—especially lovelessness, worthlessness, and shame—that had created them.  
Aware that my self-healing required inspired actions, I set a clear intention for wellness and surrounded myself with what was to be my energetic support team—those who loved me without judging, enabling, or interfering with my choices, whether or not they agreed with the healing path I had chosen.  
Realizing that I was accountable for the flow of energy between my mind, body, and spirit, I quickly shifted from reaction to responsibility. It took focused awareness to capture the negative thoughts, feelings, and patterns I engaged in every day and consciously rescript them with positive, supportive, and loving ones―but, one by one I began to do so.  
When my head asked, "Who will take care of my children if something happens to me?" my heart would answer, "Your children have a loving support system around them." When my head asked, "How will I tell my children?" my heart reassured me, "You will know the timing and they will be there to support you." And when my head asked, "What if I lose my breasts?" my heart answered, "You are a beautiful feminine goddess, with or without your breasts." I also reinforced to myself, "This is an opportunity for your transformation." "You are strong enough to handle this." and "You are a healthy being no matter what."  
I tossed out old mindsets, beliefs, and attachments to anyone or anything that no longer spiritually served me. The more I connected to my spirit through my heart, the more my choices became clear and inspired by self-love. At times I felt like a tuning fork that had been struck; as I sang out my new tone, I set in motion a higher vibrational energy to bring about a miracle of healing. 
Recognizing that I had the power within me to invite miracles unleashed a force of love upon the dis-ease trying to take up residence in my body. 
With this intention, I meditated every day and connected with the highest vibrational source for healing—love. Harnessing the energy of love through my heart like the light streams in the movie Ghostbusters, I directed it to surround every cell in my breast tissue and throughout my body with the intention of dissolving energy blocks and promoting healing.  
Several weeks before the lumpectomy, I legally changed my last name, which was my maiden name, to my married name, a change that I believed would energetically separate me from my past and validate my core being rather than my identity structure.  
A week before the surgery I traveled with my husband and daughter to New York City to relax and have fun. Near the end of our trip, we visited the Metropolitan Museum of Art, where we went our separate ways. Doug and Alex went to explore the Impressionist's exhibit, and I was drawn to the sculpture exhibit, with its view of Central Park. While sitting quietly on a bench in the garden, I immediately felt overcome with deep sense of gratitude for my life. As I opened my heart in expansive space of this love, I sensed a shift in my entire being, affirming my connection to divine grace—the sacred truth—that everything was going to be okay.  
I eventually rejoined my husband and daughter, and we left the museum to walk in Central Park. While there, I continued to experience the flow of grace. It was as if everything before this moment had disintegrated. In my trancelike state, I reached in my pocket, for my new leather gloves and realized I had lost one.  
I retraced my steps back to the bench in the sculpture exhibit, but never found my glove. I wasn't surprised. I knew that it had disappeared along with breast cancer.  
The day after we returned from New York, I had the lumpectomy. I went into the surgery knowing that I had made a series of intentions and discerning choices that had invited a miracle of self-love and healing. My intention for wellness had already manifested. 
The biopsy results were negative for breast cancer. I'd known they would be, but they were completely unexpected by my doctor, who insisted that I schedule radiation and chemotherapy treatments anyway.  
A few hours later, when I was able to step outside of the situation and see it in a different light, I gave myself permission to follow my heart. Trusting myself implicitly, I called and canceled the radiation and chemotherapy, invited a new holistic medical partner into my healing process, and continued to pursue my personal path of wellness.