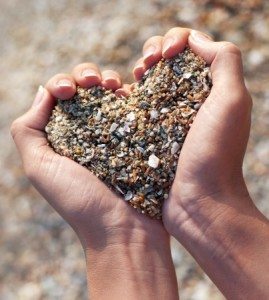 "Dare to love yourself as if you were a rainbow with gold at both ends." — Aberjhani
Opening our hearts awakens us to our authentic selves. Seeing ourselves through the eyes of our hearts, we can acknowledge that we are love and, therefore, whole and complete. In this state of awareness, we become our own safe haven, free to fully express who we are, for there is nothing we need to do except be love—at one with our source of love and at peace with ourselves. Seeing ourselves as love prepares us to cultivate loving relationships and live from the perspective of universal love. 
Opening our hearts to awaken to our authentic selves takes conscious awareness. Conscious awareness is our intuitive ability to tune in to spiritual information providing us with a broader spiritual perspective. Conscious awareness bypasses logical thinking and leads to an inner knowing through our hearts. It assists us in noticing and appreciating the information that comes from spirit. Through conscious awareness, we see and sense what is in alignment with our soul's journey.
Awakening to our authentic selves as love leads us to letting go of who we think we should be and embracing who we actually are. Living as our authentic selves is like singing karaoke. At first we may be nervous; yet each time we trust ourselves and surrender our need for perfection we gain increased awareness of the value of living this way.  
To live as our authentic selves we must communicate from our hearts.  We must speak our truth, our intimate thoughts and feelings, honestly and openly. When we communicate in this way, our words take on a more profound meaning to the listener. Sincere, honest, and loving words encourage people to listen to us like thirsty bees drawn to nectar.
To live as our authentic selves we must communicate from our hearts.
To live as our authentic selves we must communicate from our hearts.
Click To Tweet
When we communicate from our hearts, we feel secure enough to express our inner truths without fear of judgment, criticism, or retaliation. However, when we are feeling vulnerable we must rely on people who can support us regardless of our struggles, such as individuals on our energetic soul support team. As Brené Brown poignantly states, "We need to honor our struggle by sharing it with someone who has earned the right to hear it. When we're looking for compassion, it's about connecting with the right person at the right time about the right issue."
Sharing our vulnerabilities with such loving, connected, and trustworthy people enhances our sense of safety and deepens our experience of trust and intimacy. For example, when I separated from my husband and needed to share my paralyzing fear of repeating my father and mother's legacy of divorce I called my best friend. Shaken by feelings of shame that I had a failed marriage and anguish over putting my son through this ordeal, I opened my heart and shared my vulnerability with her.
I then experienced a flashback to the day I was told of my own parents' impending divorce. My heart had imprinted the emotional pain of this past trauma, and it was now surfacing through my entire body like a quivering panic. I remembered lying on the bottom bunk of my brothers' beds when my father entered the room and I knew by the worried look on his face that he was about to tell us something that would change our lives forever. Through his tears he made eye contact with me and haltingly said that he and my mother were getting a divorce. At first it felt like a shock wave moved through me, paralyzing me so I couldn't speak. My father then spoke the words that have haunted my dreams ever since: "Who do you want to live with—me or your mother?" At that moment, I began to cry and heard my voice say to him through my tears, "I can't choose, Daddy. I love you both." Communicating with my friend about the connection between my past pain and my present problematic marriage elevated not only my spiritual perspective but also encouraged self-compassion and acceptance.  
Communicating about our vulnerabilities in this way and accepting our experience as valid and transformative, even when it may differ from the other person's point of view, creates a loving relationship environment that supports us in acknowledging that the essence of our authentic selves is love. When we know our authentic selves as sources of love, we understand that our being is much deeper than our patterns, identities, and roles. Moreover, surrounding ourselves with such people, provided they listen well, respond meaningfully, and support our needs, helps us stay connected to our authentic selves.