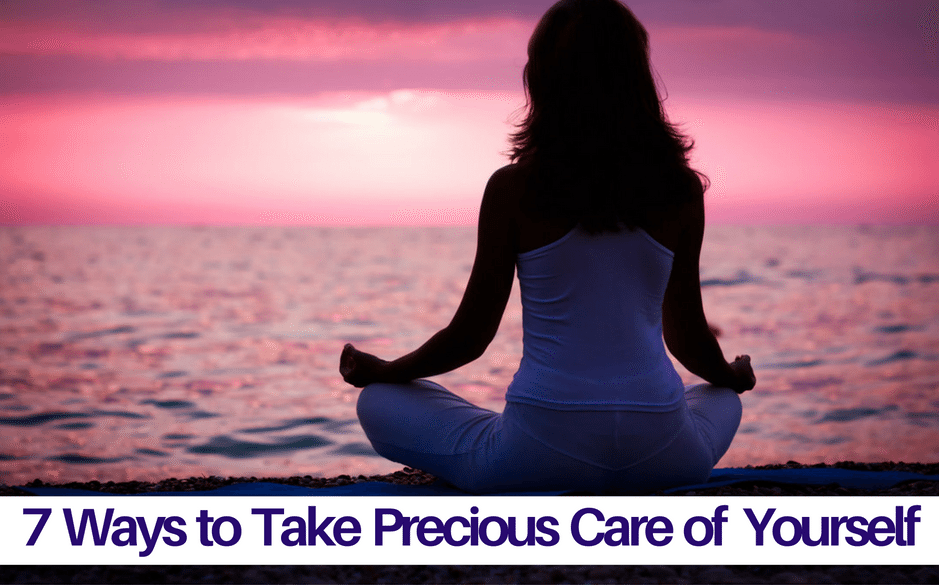 Precious self-care requires us to nurture ourselves with all the kindness and love we would shower on someone we cherish. Too often, we set aside our own needs while caring for others, or put off self-care in favor of the endless to-do lists, career obligations, and other distractions in our lives. However, disregarding our needs to focus on activities we consider more important takes a toll on us physically, emotionally, and spiritually. It triggers such mind-sets as "I should be doing things for others right now, not wasting time on myself." Putting off self-care may seem noble and selfless—until we become stressed, exhausted, or ill, and suddenly lack the energy to care for anyone.
As a highly sensitive person, I can become overwhelmed while assisting others and take on their toxic energies. I know that to continue doing therapeutic work with others I had to learn to establish healthy energetic boundaries and engage in compassionate self-care.
Showing more compassion to others than to ourselves can result in a loss of our internal heart connection to ourselves as love. The heart center is vulnerable to congestion because of the emotional processing that occurs there. Such emotional congestion can create feelings of depression, anxiety, and lethargy, particularly if we are over-sensitive to others' energies. If necessary, we can reframe "self-care" as "deep rest," so we can stop beating ourselves up for not being or doing enough. When we are tempted to ignore our needs, we must remind ourselves that we are more than enough, no matter what we do or don't do, because we are love.
Balance doesn't come from making every aspect of our lives equal. On the contrary, balance is achieved by prioritizing the aspects of your life that matter most: what you hold most dear, and what's non-negotiable. Once we know what is nourishing to the core of our being, we can channel most of our time and energy toward those things.
Restorative self-care doesn't require a lot of money, or even a lot of time. Click To Tweet In fact, it primarily entails performing small acts of kindness and compassion toward ourselves throughout the day. For example, taking a few minutes at the beginning and end of every day to meditate, journal, or relax; transforming our daily shower or bath into a ritual to cleanse our energy field after a stressful day; or engaging in activities such as walking, yoga, massage, acupuncture, tai chi, or energy work all constitute restorative self-care.
Such behavior is not self-indulgent, but rather essential to enhancing our bodies, minds, and spirits. It increases our energy, brings peace of mind, and restores that all-important inner balance. Setting aside time each day to nurture ourselves can help us reduce stress, calm our nervous system, feel renewed, and be more productive. Making a compassionate covenant with ourselves to practice at least one act of kindness toward ourselves every day can sustain happiness, well-being, and self-love, while giving us more energy to serve others.
Taking precious care of yourself is no longer optional it is an essential part of self-love Click To Tweetwhich then ripples out to others. Embrace the mantra: "Precious Self-care is non-negotiable."
Here are some ways to engage in precious self-care:
1. Focus on the aspects of yourself you love. As you move through your day, notice any negative, self-deprecating, or violent thoughts, and replace them with positive affirmations such as: "I am kind, I am generous, or I am trustworthy."
2. Be forgiving of your reactions. When you react negatively to situations, bless yourself, and release blame, resentment, and judgment. Coach yourself by using supportive self-talk to clear negative thoughts and reactions such as "Bless and release," and "Open your heart and let go."
3. Take regular breaks and quiet time to restore and recharge your energies. Spend time in meditation, nature, and in healing practices such as yoga, massage, acupuncture, and alternative healing modes.
4. Selectively tune into mainstream media outlets such as the news and social media. Too much negativity from these sources can overwhelm your sensitive emotional system causing you to take things to heart.
5. Perform acts of kindness toward yourself. Make a special meal, leave Post-it love notes on the refrigerator or the bathroom mirror, book a self-care retreat, or arrange an amazing adventure.
6. Use the mantra, "Let it all be". It tells the brain that you have entered a "no judgment zone." You can let go of your attachment to a person or situation, and eliminate any associated negativity or resistance.
7. Create an energetic soul support team. Your team should listen to you without judging, enabling, or commiserating, and always encourage you to trust yourself, follow your heart, and embrace your vulnerabilities. Spend little time with people who are negative, fearful, or energy vampires. When you get stuck or struggle, share your vulnerabilities with someone on your soul team.