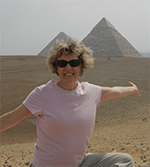 "There is no way to happiness, happiness is the way." ~ Thich Nhat Hhan
     Many of us feel that the pursuit of happiness is elusive and unattainable. We think if we just had the right job, relationship, or an abundance of money that then we would be happy. Yet, contrary to this popular belief, happiness is a state of being-wellbeing that is within our grasp. And, we have always had the power to create it in our lives. We have known this internal power as children when we played in the puddles after a warm rain, chased after fireflies in the summer, or built forts or fairy alters in our yards. Sustaining a flow of happiness takes the same lifelong principles that we practiced as children.
Going with the Flow: Remember when you were so engrossed in creative play that you felt so present with the world around you? You can still feel suspended in time while exercising, painting, meditating, or playing music. It is here that distractions fall away, background noise disappears, and you feel completely immersed in the moment. Then, stringing together these moments of heightened, present-oriented experiences brings feelings of joy, inspiration and happiness.   
Sustaining a Positive Outlook: Remember when you looked on the bright side of life? You envisioned your dreams never doubting your innate power to fulfill them. When you sustain a positive outlook on life, you are more likely to manage life's challenges, make better choices, support a healthy immune system and sustain a sense of happiness. Such a positive viewpoint also has helps you live longer and prevent certain diseases.  
Counting Your Blessings: Remember how your heart was open to give and receive at all times? You can practice gratitude by keeping a journal of things you're grateful for, sharing three good things that happen each day with a friend or partner, and going out of your way to show gratitude when others help you. As your day begins, bring to mind three things that you feel grateful for or happy about even if it's being alive. When your day comes to a close, think about three things that happened during the day that you feel blessed about, and how you believe they happened.  
Engaging in Mindfulness Meditation: As a child, you lived life as a meditation. Rewire your brain for happiness. Meditation literally clears your mind and brings your body into a state of calm. It's been proven to be the most effective way to live a happier life. Set aside quiet time to tune inward and center yourself throughout your day. Even setting aside a few minutes each day to open your heart and be present will begin your day on a positive note. Ten minutes is better than five, and 20 better than 10. 
Savoring Positive Experiences: Remember when you noticed beauty, artistry, and the wonder of life.Train yourself to become aware of, appreciate, and enhance the positive experiences in your life. Consciously focus on and mindfully attend to, and identify these experiences on a regular basis. Be in awe of nature or a meaningful soulful experience.
Practicing Random Acts of Kindness: As a child, you were kind and compassionate. Serve others at least a couple hours a week. Research shows that committing random acts of kindness promotes wellbeing. Be kind whenever possible and you will find that you will feel more positive, open and loving. It's also important to engage in restorative self-care which are simple, sacred acts of kindness to yourself. 
Cultivating Healthy Relationships: The only thing that really matters is spending time with those you love. Surround yourself and spend more time with people who love, support, and care for you without conditions. Create an energetic soul team of pure love. Such love will support your happiness even if you are an introvert. 
Forgiving Often and Quickly: Remember when you were little you forgave often and quickly? Forgiveness allows us to create a clean slate so we can being anew. And, the more you forgive yourself, the more you will find it easier to forgive others. It will free you from the past and open the energetic space for you to create a better future. 
Exercising More: As a child, you probably played until you were exhausted. Physical exercise has a profound effect on our well-being. Research has shown that exercising only 7 minutes a day can profound impact our happiness and reduce anxiety and depression. It can help you relax, increase your creativity, and overall body image.
Spending More Time Outdoors: As a child you loved spending time outdoors. Make time to go outside on a beautiful day even if it's for just a few minutes. It can boost mood, expand thinking and improve memory. Happiness is maximized at 13.9°C so head outside for your 20 minutes of fresh air. Use of this natural anti-depressant to create happiness.