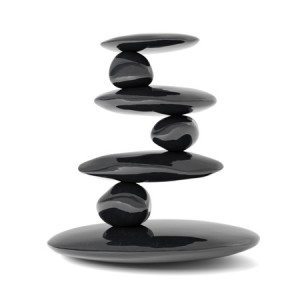 Finding balance in our life is key to enhancing our health, relationships and wellbeing. Many of us are experiencing a particularly intense period of healing, self-discovery, and personal transformation. During this tremendous shift, we have to find balance by trusting ourselves and moving through these times with lightness, love and an inner knowing that we are prepared. It is essential that we balance our energies by taking precious care of ourselves and letting go of more in our lives then ever before.
When our physical realities shift, we can feel off center, ungrounded, and begin to question who we are and what we really want. If we have defined ourselves by our job, achievements, or relationships, this is an opportunity to discover our truer selves and let go of our ego-identity. Many emotions can surface such as fear, sadness, confusion, and self-doubt. We may experience life as chaotic, discombobulating, or disorientating such as when we misplace our keys, get lost while driving, or space out over the simplest things. We are highly vulnerable and may experience physical and emotional exhaustion. Sometimes, we may cut our finger, bump into things, or manifest a mishap just to ground our energies when we feel the grids that hold our physical reality together shift and move.
So, how do you find balance and navigate this tumultuous tide of life when everything you have ever known is in flux? First, hold steady, open your heart, and trust yourself no matter if you lose your keys, your job, or your relationships. Remind yourself that you are in preparation for your future and are being given the amazing opportunity to change direction, clear your path of anything that doesn't serve you, and set new intentions of what truly does. In letting go of what you no longer need, you are opening to a myriad of new possibilities. This is the exquisite space of creation and is positive, no matter what it looks at the time.
Move slowly, with ease and engage in restorative precious self-care which are simple, sacred acts of kindness to yourself. The best prescription for taking precious care is engaging in simple daily rituals such as: taking a few minutes for yourself at the beginning and end of the day to meditate, journal, or just be. Transform your daily shower or bath into a clearing ritual to cleanse your energy field after a stressful day. Participate in activities such as walking, yoga, massage, acupuncture, or energy work to release tension, toxicity and open you to the flow of positive energy. Forgive your missteps quickly and keep the play, flexibility and humor in every moment. Finally, surround yourself with a loving, energetic support team who love and support you without condition.