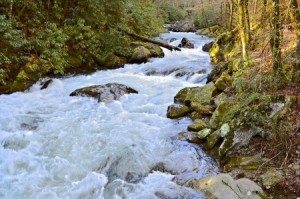 Life presents us with the opportunity to flow gracefully through life-altering challenges everyday. In such moments, we can feel anxious, unprepared, and even a sense of futility when faced with an unexpected situation. This is when we are challenged to let go of our expectations and "go with the flow." By trusting ourselves and our connection with a higher source, we can remain open to this positive flow of energy.
It's important that we accept any situation no matter how painful or difficult as an opportunity for personal transformation. The following story exemplifies how we can flow gracefully through any challenge. Over the weekend, I attended the wedding of my dear friends Kelly and Doug. A few days before the wedding, Kelly called me, anxious about the intense heat that was predicted for her wedding day, especially since it was to be outdoors. Two weeks earlier, she had called the manager of the wedding venue and asked if the celebration could be moved indoors into the wine cellar. He said that it wasn't possible and that the reception would need to remain outside under the tent.
First, I reminded Kelly to take a deep breath and release her fear of the wedding not going as planned. She needed to trust herself and her partner, Doug for co-creating the wedding experience that was unfolding right in front of them. Just as a plane is guided into the air, she and Doug, as co-pilots with source, were guiding their intention for a beautiful wedding celebration into reality. With absolute trust that one moment would unfold perfectly into the next, they needed to let go of any expectation, specific outcome or preconceived plan. This play and flexibility would open up the graceful flow of energy that would lead them through this challenge and create beyond what they thought possible.
Watching a powerful thunderstorm roll in from their hotel, they witnessed fifty mile an hour winds gusting through the area a few hours before the ceremony. Realizing that it would be cooler for their guests, they took a momentary sigh of relief. Yet, now the rain had turned to hail that was pummeling the pavement outside. When they thought it couldn't get any worse, an hour before the wedding, the winery called and sent a picture of the huge silver maple tree that had cracked in half during the storm and landed on the tent that was covering the reception site. As they received the news, instead of breaking into tears, they broke out into laughter. Then, they were told that the wedding celebration would be held inside the wine cellar which was what they had wanted all along.
As if going through the back of the wardrobe in The Chronicles of Narnia, Kelly and Doug were energetically prepared to trust the people they had involved, the events that would take place, and how their intentions would manifest. Consequently, what started out as simply a better choice evolved into a series of choices that strung together like an exquisite strand of pearls, creating a celebration of life.
Kelly and Doug continued in the graceful flow of the energy that had set the tone for this special day. These series of co-incidents gave them the opportunity to let go of attachment to specific outcomes, trust themselves and each other and sustain the flow of energy even in challenging circumstances, a sort of dress rehearsal for those they were likely to face in their future.