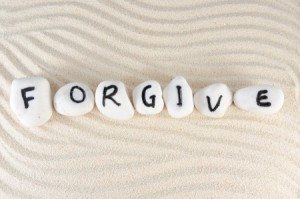 The more we forgive the past, the more we open our hearts in loving compassion. In forgiving anyone or anything, we dissolve the past and sever any negative energy to the person or process. Forgiveness allows us to let go of the emotional attachment we have and with the positive energy that returns to us, we create space in our heart to love.
This hit home for me recently when I was finally able to put my mother's disappearance to rest. After finding a marriage certificate that placed my mother in Cleveland in 1968, my friend Michael and I continued the search for her with new information in hand. We tried exploring military records, but could only search so far because the facility where her records were kept had had a fire and her records were destroyed.
We also found that her mental health records at the psychiatric institution where she had been a patient had been sealed by the state of Pennsylvania when the facility closed. Sadly, both leads seemed like dead ends.
Instead of giving up on what seemed like a cold case, Michael started googling different spellings of my mother's last names. Unexpectedly, he got a hit on a misspelling of my mother's married name while with my father Skagal instead of Skacal. This led him to a link to a military cemetery at Ft. Collins, Colorado. Following up on this lead, Michael found a picture of a grave marker which bore the same first name and middle initial, birthdate, enlistment date, and military rank.
Michael immediately called me and invited me to his house excited, yet, skeptical about his discovery. When I looked at the print out of the grave marker, I knew it had to be her. All the information lined up and I had this strong intuition that we had found her. Yet, I felt mixed emotions when I first saw the death date of November 4, 1969 inscribed on the head stone. There was an immediate sadness that came over me like a door being slammed shut. I realized I would never see her again or be able to ask the questions that always haunted me. Most of all, I felt relief that the reason we hadn't been reunited was because she had been dead all these years.
Anticipating what I already knew, I called the social security office to verify the information we had just discovered. As I explained my situation to the young female agent who answered the phone, she agreed to help me even though they aren't supposed to give out such information. With each piece of information I
shared with her, she confirmed them all. This was definitely my mother.
What followed for me were tears of love instead of resentment, anger, or hurt. Feeling at peace, I knew that the work I had done to forgive her had freed me from any negative charge or disappointment. Thus, experiencing myself in a positive light, made it easier for me to love myself, allow love in, and feel spiritually connected. This brought me into a state of grace of accepting what was and forgiving what wasn't. For the first time, I am complete with our relationship and the purpose it has served in my life.