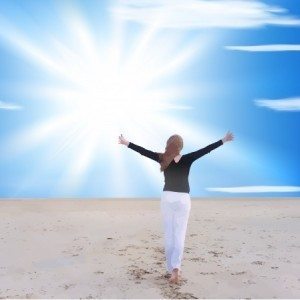 "There's a crack in everything.That's how light gets in."-Leonard Cohen
The more we lean into our vulnerabilities, the more open we become to spiritual transformation, for one unlocks the door to the other. The moment we lean into our vulnerabilities, courageously stepping through this portal to personal transformation, we find that love has been there all along.
Health, relationships, and finances are the areas of our lives in which we feel most vulnerable. Whether or not we had a healthy and loving childhood, we all experience some form of loss or suffering in our lives as a reflection of the human condition. Our subsequent pain, while unresolved, keeps us moving in habitual ways and inhibits us from cocreating and cultivating a fulfilling and happy life.
Leaning into our health, relationship, financial, or other vulnerabilities requires spending time alone so we can focus on whatever unresolved pain begins to surface. Many of us find that being alone with ourselves is scary, making us feel uncomfortable. Yet it gives us the opportunity to observe and reflect on our feelings of unworthiness and disconnection. It's important that when we spend time alone. We are compassionate company for ourselves, as if spending time with an old, trusted friend whom we unconditionally love and accept.
Spending time alone creates a sacred space for checking in with ourselves and becoming aware of the source of our vulnerabilities. For example, while I was searching for my mother my unresolved pain started breaking through the protective barriers I had set up early in my life. So ensconced in my burgundy corduroy chair, my safe sanctuary, I took time to reflect on the anguish that threatened to engulf until it seemed I had shattered into a million shards of glass; then, with compassion, I leaned into my deepest vulnerability, the fear that I was unlovable. I emerged from the experience aware that this fear had colored nearly my entire life experience and that its source was abandonment by my mother when I was eight.
When we confront the source of our vulnerabilities, we often discover that the person or situation causing our distress is not as formidable as the fear amplified in our minds and blocking the flow of energy we need to thrive. When we trust ourselves as a source of genuine power, our courage can kick in, enabling us to face what frightens us most and witness firsthand that our vulnerabilities are no match for the energy of love.