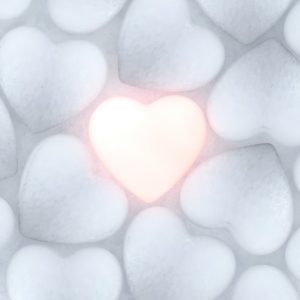 Where love is present, there are always miracles. While many of us are reluctant to apply the word miracle to ourselves, this reluctance only diminishes the power of love that we source through us. Recognizing that I had the power within me to invite miracles unleashed a force of love upon a dis-ease trying to take up residence in my body. So I reminded myself, "What is not love is always fear, and nothing else,"1 suggests A Course in Miracles.
Some of us believe that angry, ass-kicking sentiments such as "waging war on cancer" and "kicking cancer's ass" give us power over a relentless disease, but they only deplete our healing power. The cells in our bodies react to negative energy, which further compromises our immune system. Harnessing the energy of love through my heart like the light streams in the movie Ghostbusters, I directed it to surround every cell in my body with the intention of dissolving energy blocks and promoting healing beyond the predetermined results my doctor had given me. Ultimately, this made me aware of the power we have for healing ourselves and, by our example, becoming ambassadors of love to others.
  Almost ten years after being diagnosed with breast cancer, I am reminded daily of our spiritual ability to make discriminating choices that dramatically alter our life paths, open us to transformation, and manifest realities beyond anything we ever thought possible. Initiated by our intent, ignited by our energy, and co-created with source, such choices take us beyond thoughts, beliefs, and physical conditions to an expanded perspective of life that allows us to subsequently become ambassadors of love to others.  
Sometimes such spiritually-directed choices can cause our family and friends to question our sanity. I was surprised at how some of the people in my life tried to convince me to follow a traditional medical path. But instead of getting angry at what could have been perceived by their lack of faith in my judgment, I allowed their views to compassionately remind me how afraid people become when they think they will lose someone they love. Although my husband was anxious regarding my choices and didn't necessarily hold with my holistic point of view, he was a steadfast partner and supported my choices throughout this experience. I knew that, in order to heal, I had to crash the old hard drive of my brain―the part of my thinking that stored old programs―and create a clean, new operating system. Once rebooted with fresh spiritual information, I was able to transform my body and invite in a miracle of healing.
Miracles occur when we expand our conscious awareness and sustain a flow of positive energy regardless of our circumstances. Click To Tweet While expanding our conscious awareness, we witness the core of our being from a spiritual viewpoint determined by the integration of head and heart perspectives. Such integration offers us insight about ourselves and our relationships, as well as the opportunity to be a creative channel for love energy to flow through us and manifest positive outcomes for others.
Save
Save