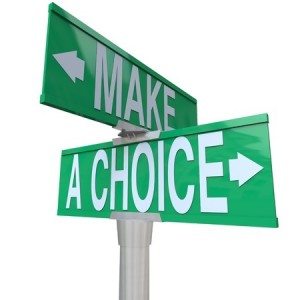 At this time in our spiritual evolution, it's imperative that we make discerning choices that resonate with our soul's path. We make thousands of choices every day and each one of them must be appropriate to our true being. For many of us, making a choice, let alone a discerning one, is an overwhelming experience. We have so many beliefs as to what "we should" do that it makes it difficult to choose what truly aligns with our heart. Feeling bogged down in fear that we'll make a wrong or bad choice, we often become paralyzed and avoid making a choice altogether. Yet, not making a choice through fear or avoidance is still making a choice. So, we can not let fear block the flow of our energy to make discerning choices-the best possible choices in that moment.
When we consistently make discerning choices, we take our dreams and turn them into reality. Click To Tweet This takes following our hearts instead of the dictates of our minds. As humans, we are "creatures of habit" so we often make choices out of routine instead of what truly resonates for us. For example, we find ourselves sleepwalking through life, making choices on autopilot such as eating the same foods, driving the same way to work, and interacting with the same people-all within our comfort zone of familiarity.
Here are some ways to assist you in making discerning choices. When you feel that surge of energy that you label as anxiety, take a minute to pause, open your heart, and breathe deeply. Focus your energy inward on your heart space. Once you feel calm, gently remind yourself that you can make the best choice possible. Then ask yourself, "What's the best use of my time and energy right now?" or "In what direction do I feel drawn?" Pause and listen to your inner truth. Be open to however you receive the information.
Finally, let go of making the perfect choice. Making a choice even if it leads you in a new direction assists you in moving toward what you want even when it appears random or out of the ordinary. Even if it's the choice to get up and shift your point of view, it will give you a feeling of movement and new information. For example, I have sometimes made a choice only to find out that this was not the direction that I wanted to go. It is important that we don't judge ourselves as having failed or made the wrong choice but that it put us on the path of where we really wanted to be. Remember that even though you make a choice, you can always choose again.
Choice is a powerful tool that you can use to get unstuck, unblock your energy and create your reality. When you make discerning choices, you express the light of your being into the world. Start creating a more fulfilling life by making one discerning choice after another.