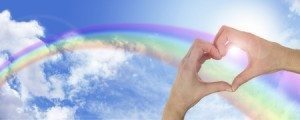 Dare to love yourself as if you were a rainbow with gold at both ends.—Aberjhani
      Opening our hearts awakens us to our authentic selves, whose essence is love. Seeing ourselves through the eyes of our hearts, we can acknowledge that we are love and, therefore, entirely adequate and sufficient. In this state of awareness, we become our own safe havens, free to fully express who we are, for there is nothing we need to do except be in love, at one with our source of love, and at peace with ourselves. Seeing ourselves as love prepares us to cultivate loving relationships with others and living from the perspective of universal love.
     Awakening to our authentic selves leads us to letting go of who we think we should be and embracing who we know we are. Living authentically is like singing karaoke. At first we may be nervous; yet each time we trust ourselves and surrender our need for perfection, we come closer to living this way.
     An important aspect of living as an authentic self is communicating from the heart. We must speak our truth, our intimate thoughts and feelings, honestly, openly, and with our whole hearts. When we communicate in this way, our words take on a more profound and resonant meaning to the listener. Like nectar for thirsty bees, sincere, honest, and loving words encourage people to listen to us.
     When we communicate from our hearts, we feel secure enough to express our inner truths without fear of judgment, criticism, or retaliation. However, when we are feeling vulnerable and in need of support we must rely on people who can embrace us regardless of our struggles, such as individuals on our energetic team. As Brene Brown poignantly states, "We need to honor our struggle by sharing it with someone who has earned the right to hear it."1 Sharing our vulnerabilities with such loving, connected, and trustworthy people enhances our sense of safety and deepens our experience of trust and intimacy.
     Even with such support, communicating about our vulnerabilities necessitates being aware of them and summoning the courage to share them. For example, when I unexpectedly became pregnant with my first child at the age of twenty-five and needed to share my paralyzing fear of repeating my mother's legacy of abandoning her children, I called my best friend, a member of my energetic team. Shaken by feelings of shame for questioning whether I wanted to have the child, I reached for every ounce of courage I had to open my heart and tell her of my vulnerability. As it turned out, these revelations increased my self-love and compassion.
     Communicating about our vulnerabilities in this way and accepting our experience as valid even when it differs from the other person's point of view creates a loving relationship environment that supports us in acknowledging that the essence of our authentic selves is love. Moreover, surrounding ourselves with such people, provided they listen well, respond meaningfully, and support our needs, helps us to stay connected to our authentic selves. When we know our authentic selves as sources of love, we understand that our authenticity is much deeper than our patterns, identities, and roles.