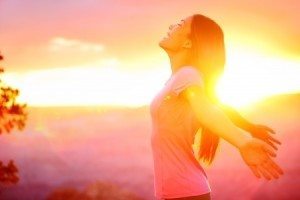 "The human spirit is stronger than anything that can happen to it." George C. Scott
Spiritual resiliency is our natural state of being even if as adults we no longer experience its essence in our everyday lives. As young children, we clearly trusted this ability to transcend as spirit, never doubting our innate power to handle or lift out of any situation. Even if we didn't understand how spirit lifted us, we knew and felt its truth through our open hearts, regardless of our circumstances. Open and optimistic, we had not yet acquired the adult mindsets and beliefs that would erode an absolute trust that we could rise above any difficult situation.
    After checking every box on a list of life's most stressful events, I realized how resilient the human spirit could be. It wasn't easy losing my mother early in life to drug use, experiencing physical neglect and sexual abuse, or being in the wake of my stepmother's mental illness. Why was my experience different from others who had been crippled or left devastated by such events? I realized it was my spiritual resiliency. Like a periscope, I lifted up and out of the human process and recognized my human experiences as stepping stones to my personal transformation. Each one showed me how to trust myself and my connection to a divine source and to know that I would be OK no matter what it looked like at the time.
    Spiritual resiliency has always been my closest companion. I remember the day that I was diagnosed with breast cancer. Until this point, I usually bounced quickly incorporating the information I had gleaned from such challenges as divorce, single parenting, and trying to locate my long lost mother. As a woman, healer, mother, and partner, the vulnerability of breast cancer had rocked my world more than anything I had ever experienced before. Like the resuscitation paddles that jump starts our heart back to life, this vulnerability jolted my heart bringing me out of the comfy cozy world I had created. It had turned me upside down and inside out; yet, I knew that here was the spiritual journey, the path of transformation being set out in front of me.
      Through tapping the resiliency of spirit, we know that we are the miracle of creation. We trust that we can manifest beyond whatever has been before, override what is predictable or let go of what's expected. We can create anew. As I realized through this experience, it is not only possible but probable that I could raise my energy level to the vibration of love where miracles occur. First, it took being accountable for my thoughts, emotions, and choices. Making this shift from reaction to responsibility-able to respond, was exhausting physically, emotionally, and spiritually. It took focused awareness to capture the negative thoughts, feelings, and patterns that I engaged in every day and then shift them to positive, loving, and healing ones. This initiated an energetic transformation which then catalyzed all the physical resources I need for the healing of my mind and body.
     We are the miracle of creation. We tend to shy away from applying the word miracle toward ourselves. However, this only diminishes the inner power that we can source through us. Recognizing that I was the miracle of creation and had the power within me to create other miracles unleashed the force of light and love on an illness that was trying to set up residence in my body. Leap-frogging any limits or restraints to my healing, such as preconceived thoughts or other people's belief systems, I sourced this energy through my heart and surrounded every cell in my body with it. Like the light streams in the movie Ghost Busters, I channeled this powerful energy with the intention to dissolve any energy blocks. Standing in my own light, I moved beyond any predetermined cause and effect result and into a new sense of power and creation.