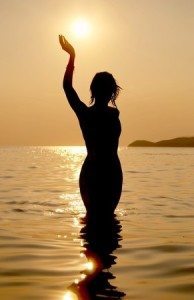 Tapping the resiliency of the human spirit allows us to transcend and transform even the most devastating circumstances in our lives. Spiritual resilience is seeing the "brilliance" in the universal plan for us no matter how difficult or painful it may be. It is the lift of spirit that provides us with the ability to see our lives from this broader, more expanded spiritual perspective. This lets us step outside of whatever is happening in our lives with healthy detachment.
     As I was preparing for a radio interview this week, I was asked to share my personal journey and any traumatic issues that I've experienced along the way. After checking every box on a list of life's top stressful events, I wondered if it was so that I could see how resilient the human spirit could be. It wasn't easy losing my mother early in life to drug use, experiencing physical neglect and abuse or healing myself from breast cancer. Above all, these experiences prepared me to trust myself and my connection to a divine source and that I would be OK no matter what it looked like at the time.     
     What makes it possible to not only endure hardship, but make the best of any challenging situation? First of all, It takes a loving, trusting relationship with yourself to remain awake and follow the voice of spirit speaking through your heart. Next, the more you tune into the guidance of spirit, the more it leads you to a richer, more expansive way to live-even when it suggests a more challenging path. In trusting this inner wisdom, you are assisted with daily problems and waste less valuable time and energy being anxious about life's difficulties. Moreover, the guidance of spirit allows you to respond rather than react to events, giving you even greater peace of mind. Know that you are prepared for whatever comes your way and let spirit lift you out of the physical circumstances and into the inner spiritual knowing that all is well.