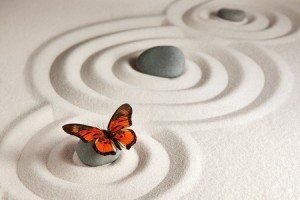 "We are what we repeatedly do. Excellence, then, is not an act, but a habit." Aristotle
As human beings, we are constantly bombarded with fear and negativity everyday. All we have to do is turn on the news, read the newspaper, or check the Internet. We may even find ourselves addicted to the incessant drama of the world, the people around us, or our own negativity. Unfortunately, many of us reinforce even more negativity when we co-miserate with our family, friends, and co-workers. So, it is important to remind ourselves that "misery does love company" and that all it takes to empower negative is more negative.
We have the ability to move beyond this addiction to fear and negativity by practicing compassionate detachment. We can open our hearts in loving compassion for ourselves and others and let go of getting caught up in the drama or suffering of everyday life. It is a great opportunity for us to see what does and doesn't work in our lives, the futility of trying to fix the past, and to make distinctive and more positive choices for our future. This requires focusing our energies on the positive aspects of our lives and trust that all of us can transcend anyone or anything that blocks our spiritual path.
Many of us who are deeply sensitive are dealing with compassion fatigue. This sensitivity to other's energies can create feelings of spiritual depression, anxiety, and lethargy. So we can reframe these feelings as a time of "deep rest" so that we don't become bogged down or beat ourselves up for not being or doing enough. At these times, we must affirm that we are enough and give ourselves the restorative rest we need.
It is also critical at this particular time that we create energetic boundaries so that we keep from being sucked into this whirlwind of anger, fear, and negativity. To do so, we have to be discerning of whom we spend time and share our energies, and which environments we inhabit. Because we tune in energetically to our environment, it is important to carefully consider the location in which we live.
Like a periscope in a submarine, we must lift up out of the shadowy aspects of human consciousness and elevate our physical perspective to a more spiritual one. We must remain clear that we are first and foremost spiritual beings navigating the sea of human processes. Trust that love opens our hearts, raises our vibration, and dissolves negativity.
You can transcend fear, anger and negativity by allowing things to be without resisting or avoiding the changes. Give yourself the freedom to follow your heart and move through your day without trying to control or force anything to happen. When you give way to control, you give away your self-control. Therefore, soften your position or opinions and trust yourself to create positive intentions, make discerning choices, and let your light expand out into the world.
Invite in blessings of love, peace, and abundance and let go of any fear, anger and negativity. Resolve to complete every moment with gratitude, compassion, and forgiveness for everyone and everything that has brought you to this point in your life.