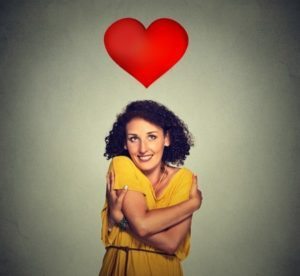 "You have to love yourself because no amount of love from others is enough to fill the yearning that your soul requires from you." — Dodinsky
Inviting love into our being allows us to experience our sacred connection to others and to humanity as a whole. When we are born, we temporarily forget our divine magnificence; consequently, we spend much of our lives trying to remember who we are. Before we uncover that remembrance, we spend much of our time and energy seeking out the inner connection which we crave on a soul level without even really understanding why. In other words, even before we remember what love really is, and where it comes from, we spiritually yearn to love and be loved.
In our state of "love blindness," we tend to look for love in all the wrong places. Our society, which is rampant with lovelessness, not only reinforces our flawed views of love but encourages us to keep searching for it in the most unhealthy ways. We expect our Prince or Princess Charming to ride up on a white horse and make us feel secure, happy, and whole. We want to find our soul mate and have a "cosmic" connection, but rarely do we do the inner spiritual work required to attract and cultivate such a soul-hearted relationship—and when the object of our affection fails to live up to our fantasy, we feel betrayed and deprived. We think we have to seek or earn love; however, we cannot acquire something that already exists within us.
Once we acknowledge love as our divine essence, we can more readily invite in love and connection through opening our hearts to the essence of others. And the more we emanate the energy from our hearts, the more love is generated and returned to us.
By inviting in love and connecting with someone on a soul level, we spiritually grow.  The relationship becomes a portal to our own and the other person's transformation into more loving and fulfilled human beings. It is why we are here.
In every relationship, in every moment, we demonstrate love or fear. The more we express love toward others, the more we see that we are lovable, and discover how to love more intimately. Being lovingly connected to others brings out the best in us, and allows us to emotionally and spiritually grow as individuals.
A deep, loving connection with another person offsets our isolation since it brings both hearts into vibrational coherence as one energy source that interconnects with all living beings. It affirms that we are not alone in the world, that although we may feel physically separated we are energetically connected through our hearts and souls. Through this connection of universal love, we find that we are never truly alone.
Here are a few ways to invite in love and connection with others:
Evaluate your current relationships to see if they are appropriate for your spiritual development at this time in your life. What unresolved issues are your relationships showing you about yourself? Do your relationships support you in your spiritual growth? Are they assisting you in creating the life you desire?
Begin a new relationship (whether it be a romance, friendship, or otherwise) that is meaningful, and let go of any that no longer support your personal transformation. Let yourself be vulnerable with this person so you can emotionally and spiritually grow.
Create an energetic support team consisting of people who love, support, listen to, and encourage you to embrace your vulnerabilities without judging, enabling, or commiserating. Evaluate your relationships to see who's on your energetic support team by asking yourself, "Who unconditionally supports me to spiritually grow and reach my fullest potential? Who is trustworthy, has integrity, and is impeccable with their word? Who accepts me for who I am, but gives loving feedback when asked?
Open your heart and visualize your soul-hearted partners. To reinforce your image, share it with your energetic support team or write about it, refining the vision as you gain more information.
Let every thought resonate with an intention of love to support yourself and others without conditions or expectations. Catch and release any negative thoughts as soon as you become aware of them, and replace them with positive ones, even if you are angry or upset.
Happy, healthy, and connected relationships are founded in physical, emotional, and spiritual connection. We have entered an "age of love" where love and connection have now become the foundation on which we commit to a relationship. In truth, we are soul-wired to bond because we need love and connection not only to survive, but to thrive. Love and connection support our physical existence and enhance our spiritual growth.