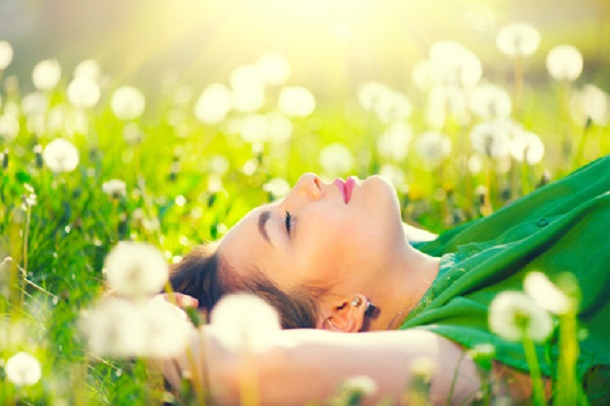 It's not easy remaining calm in the center of a storm raging around you. When fear or chaos arrive and you feel yourself spinning out with anxiety, you have the power to choose to respond rather than react. Being responsible or "able to respond" when life comes at you can help you sustain inner peace in turbulent times.
Permission to Pause. My number one tool in managing anxiety is giving myself the "permission to pause" in any situation that arouses a reaction. It provides time, space, and a break from the situation to gain healthy detachment. When you push the pause button, you step back, take some deep breaths, drop into your heart space, and tune in to what's going within you. This immediately helps you to stop reacting from anxiety and respond from your heart.
Intentional Breathing. While in pause, I practice deep, slow, intentional breathing. It draws more oxygen into your body, releases tension, and brings your nervous back into balance. A regular breathing practice will help you remain calm on a daily basis, and release past blocks as well. Follow your breath to the center of your chest―to your heart center. Lightly place your hand on your heart. Take a few more breaths and go deeper into your heart. Do this until your breath is rhythmic, and you feel calm and centered. Do this until your breath is rhythmic, and you feel calm and centered.
Grounding Your Energies. Another way to calm your anxiety is grounding your energies by directing your attention into your feet. Whenever you experience panic, your energy tends to collect around the top of your head which can make you feel detached from the rest of your body. This sudden rush of energy to your head space may lead to feeling unsteady, dizzy, or even faint. Focus on how your feet feel inside your socks or shoes and against the ground. Once you have focused your attention here, tap your feet on the ground until you feel the energy here. Doing this outside on grass or moss enhances the calming effect.
Drop into Your Heart-Space. Opening the heart not only calms an anxiety-ridden brain but also floods the body with a soothing vibration. When you drop into your heart space, you remain grounded like the eye at the center of a tornado even as the anxious thoughts spiral through your mind. Just by bringing your attention from your head to your heart, you create calm and centeredness. Focusing your attention at your heart doesn't just calm an anxiety-ridden brain and nervous system; it also brings your body, mind, and spirit into energetic coherence.
Connecting with Nature. Become grounded by connecting with nature. Nature grounds, balances, and heals us. Just being outside in nature will bring you into the present moment. Take time each day to go outdoors, if only for a few minutes, to restore and clear your energy system. After any negative or anxiety producing situation, it's essential to detox the lower vibrational energies you have experienced. Spending time in nature and/or water clear your energy system, ground you, and bring you back into energetic balance. 
Setting aside time each day to nurture ourselves can help us reduce stress, calm our nervous system, and restore inner peace. Making a compassionate covenant with yourself to practice at least one act of self-care act every day can sustain calm when you find yourself in the midst of chaos.