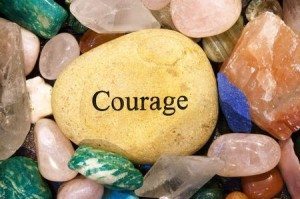 Courage comes from the Latin word cor, which means "heart." Courage sources deep within our hearts as self-acceptance and compassion. It encourages us to engage in every life situation no matter how scary as an opportunity for spiritual transformation.
To be courageous is to lead with your heart, and reveal your truth―your inner thoughts, feelings, and experiences―honestly and openly. It dares you to fully express who you are as love.
When you express yourself as love, you venture into the unknown territory of your own being. Being courageous doesn't necessarily mean performing feats of external bravery and strength, but rather acknowledging your internal fears, hurts, and imperfections, and boldly acting in the face of them. Thus, trusting yourself to let go and embrace your vulnerabilities is one of the most courageous choices you can make.
When I received the edited draft of my first book, Soul-Hearted Partnership: Creating the Ultimate Experience of Love, Passion, and Intimacy, I was ecstatic. It had taken me ten years to summon the courage to share my writing with an editor, and I was eagerly anticipating the results. However, as I scanned the cover letter, I felt my stomach lurch and my heart sink. Even though there was both positive and corrective feedback, I zeroed in on the corrective feedback, which I immediately perceived as negative.
The ricochet of shameful thoughts began: "Who do you think you are, trying to write a book? You have nothing to share that people want to read. You're not a writer, so give up now." Feeling disappointed in myself, I wanted to throw the marked-up pages in the fireplace and be done with it. But before making an impulsive choice that I might ultimately regret, I paused and checked in with myself. Turns out, my strong emotional reaction was a clue that my vulnerability had surfaced for me to embrace.
That night, I lay coiled up in a fetal position on the cold tile bathroom floor, feeling like I would never stop crying. I allowed the debilitating thought of "not being good enough" to unravel me. I beseeched God, asking, "Why is this happening to me and why now? I've tried so hard to do everything right." Finally I gave myself permission to fall apart—which felt like falling down the rabbit hole. Then, while in the grip of pain, I tapped into a well of courage deep within me, picked up my journal, and wrote until I had thoroughly exhausted myself and my emotions.
The next morning, I placed the edited draft in the freezer, believing this would take the negative energy from it and give me some healthy distance. During the several days, while my draft lay out of sight in the frozen Green Giant tundra, I shared my vulnerability with my partner until I felt the weight lift from my heart. I needed to recognize my experiences as pathways to personal transformation, see that each one could show me how to trust myself and my connection to a divine source, and remember that I would benefit no matter how dire and uncomfortable the situation seemed at the time.
Gradually, I started making the suggested corrections to the draft while letting go and embracing any vulnerability that surfaced. As I shared this experience with my editor, a supportive member of my energetic team, she lovingly said, "I think the world of you, and I'm pleased that you've uncovered the value inherent in cryogenics."
What I ultimately gleaned from this experience was that we can't think or feel our way into being courageous. Trusting ourselves and letting go is the ultimate vulnerability, and also the most powerful and inspired action.
To discover our soul potential, we have to trust ourselves and courageously excavate all that inhibits our full self-expression. We must give ourselves permission to make mistakes, experience disappointments, acknowledge our failures, and create messes. As Anne Lamott writes in Bird by Bird, "Perfectionism is a mean, frozen form of idealism, while messes are the artist's true friend. What people somehow forgot to mention when we were children was that we need to make messes in order to find out who we are and why we are here."  Our greatest mistakes, and our biggest messes, are our best teachers. The process of trusting ourselves, letting go of fear and control, and embracing our vulnerabilities may not be neat and tidy—but if we do it enough, it will eventually put us in touch with our authentic selves and the power in the universe that is our birthright.
Trusting ourselves and letting go gives us the freedom to see our vulnerabilities and imperfections in a new light. Instead of feeling ashamed of them, we can courageously embrace them to create new potential for loving ourselves and others. To trust ourselves is to love ourselves even when we feel unlovable, to make loving choices for ourselves even when we feel unworthy, and to open ourselves to love even when we are afraid of being hurt. It permits us to participate fully in life without holding back any part of ourselves.