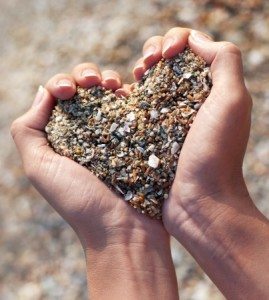 Our heart is the GPS of our soul. It senses and transmits energy bypassing the brain so we receive spiritual information. Every person is born with this ability to be an open channel to their soul. However, each person tunes in to this energy flow differently. How open we are and how much we trust ourselves determines the extent this energy can be used. For some of us, it's natural and easy and for others, it takes continuous practice. Yet, for all of us, channeling this divine source of energy creates a fulfilling and purposeful life and sustains all that is well and good.
The eyes in our heart are the window to our soul. Tuning in to our heart, we access this window of spiritual information. Through focused awareness, we can flip the communication switch to open to new information that vibrationally flows through our heart's pathways. Like pushing the buttons on the radio to tune into a certain channel, opening to this spiritual channel creates a shift in our perspective and connects us to who we are.
Groundbreaking research shows that our hearts have an intuitive, integrated way of knowing that complements our thinking. Mystics, spiritual leaders, and healers have long known that the heart is the gateway to wisdom, health, and enhanced wellbeing. This is why so many pictures of saints, sages, and Christ depict a wide-open heart. Yet, most of us have never learned how to come into "heart coherence." According to researchers at HeartMath, heart coherence is a scientifically verified state in which our brains and hearts come into a sympathetic resonance and exchange information with each other. On a more deeper spiritual level, creating vibrational coherence allows us to tap into a larger field of energy that inter-connects us with every living being.
With practice, you can become an open channel to your soul's path. Begin by closing your eyes, placing a hand on the center of your chest and focusing your attention to your heart. Breathe in love, gratitude, and compassion. Each time you exhale, breathe out negativity and judgment. As you focus on the flow of energy emanating from your heart, you will begin to feel in vibrational coherence with your entire body. Your brain and nervous system will calm down and align with the ebb and flow of your heart rhythms.
The benefits are extraordinary when we open our hearts in love. It strengthens the  immune system; eliminates energy blocks; diminishes stress and negativity. As a result, it brings us into an emotional balance so that we feel less irritated or angry when someone cuts in front of us in traffic or our partner makes an insensitive remark. In addition, we can access our inner guidance and know what choices to make in our work, relationships, health, and act in alignment with a deep trust of ourselves. Most importantly, the quality of our life improves because we wake up each day with positive energy, inspiration and a sense of gratitude for blessings in our lives.